[Tuesday Morning, June 27, 1836]
In 1827, Thomas Barnett established Barnett's Museum in Niagara Falls, Canada. It was the first established museum in North America.
I would like others to view this receipt that belonged to my great grandmother's grandfather, George Blair. Very few of these are in existence in such perfect condition, but I have one hanging on my wall. Apparently, George went behind the "Great Falling Sheet of Water" in Niagara Falls.at the original Niagara Falls Museum. The receipt is signed by Thomas Barnett, the proprietor of the original museum, and is dated 13 June 1846. I could be a rich woman if I didn't believe these artifacts belonged in proper archival care, so I have contacted the museum and am donating it to their collection to honor my mother and father, Maxine and Harold Fox, who left me some wonderful memorabilia. Image is not clear due to glass.
FRONT IMAGE
NIAGARA FALLS
CANADA WEST
This is to Certify that George Blair
Has Passed Behind The
GREAT FALLING SHEET OF WATER
TO TERMINATION ROCK
Being 230 ft. behind the Great Horse-Shoe Falls
-
Given under my hand, at the office of the General Registrar of the names of visitors at the Table Rock, this 13th day of June 1846.
Thomas Barnett
BACK IMAGE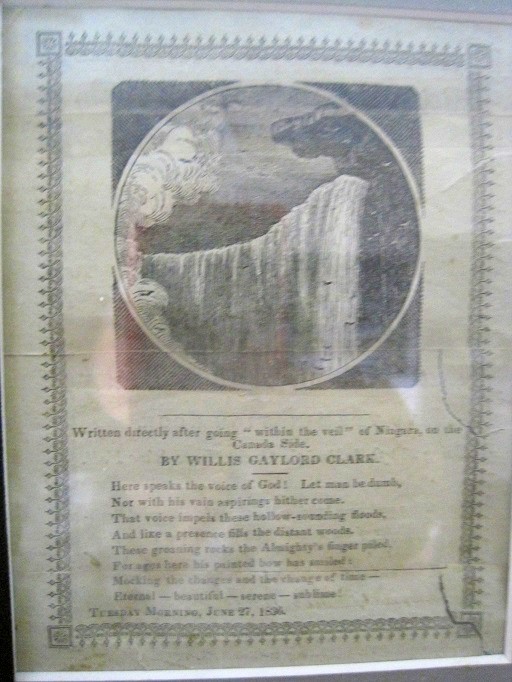 Written directly after going "within the veil" of Niagara, on the Canada side.
BY WILLIS GAYLORD CLARK
Here speaks the voice of God! Let man be dumb,
Nor with his vain aspirings hither come.
That voice impels these hollow-sounding floods,
And like a presence fills the distant woods.
These groaning rocks the Almighty's finger piled,
For ages here his painted bow has smiled:
Mocking the changes and the change of time-
Eternal-beautiful-serene and sublime!