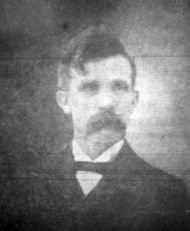 PROMINENT MEN OF WELLAND COUNTY
[Welland Telegraph, 1904/05]
JOHN FRANKLIN GROSS
Was born in Hay Township, Huron County, on July 19, 1859, the son of John Gross, who is still living at the age of 80 years.  His grandfather, Jacob Gross,  was a German, and settled in Lincoln County in 1818. Mr. Gross studied law with W, M. German, M.P. and in 1897 was called to the bar. As a Liberal standard bearer he twice carried Welland County, being elected in 1900 and 1902. Mr. Gross is a member of the English Church. -Welland Telegraph 1904/05
WELLAND TODAY IS MOURNING LOSS OF CITY SOLICITOR J. F. GROSS WHO DIED LAST NIGHT
Beloved Civic Official Succumbs to Complications Following Pneumonia Attack
LIFE WELL SPENT
Was Long and Honored Figure of City and County Public Life
[The Welland Evening Tribune, 28 January 1928]
J.F. Gross has passed away.
And that means the going on of a man long identified with the public life of this city and of the county of Welland, a member of the old guard of the Liberal party, and an outstanding figure hereabouts for many years. In March of last year, Mr. Gross while on a trip to the Pacific coast was stricken with pneumonia at Vancouver, and there lay for a long period. He was brought home in August, and has since been confined to his home on Division street, this city, where death came to him Friday night at ten o'clock.
Hope of ultimate recovery ebbed and flowed from time to time. In the afternoon of yesterday he fell asleep and so slept his life away. It was a peaceful end of a life well spent, and one whose memory will long live in this city and the surrounding county-a life of which it may well be set down that the definition of Chesterfield applies: "That a gentleman has ease without familiarity, is respectful without meanness; genteel without affectation, insinuating without seeming art." For J.F. Gross was such.
Like his father, John Gross, one of the pioneers of Welland, John Franklin Gross was born in Clinton township, his natal day being July 19, 1859.
The founder of the family here in Canada was Jacob Gross, a native of Bucks county, Pennsylvania, who came to the dominion about the year 1818 and settled in that township. The father of the dead man came to Welland in 1872 and established one of the first industrial enterprises of the then village, a manufactory of pumps, in which the son was for some time associated following a number of years spent in the teaching profession.
Starts Career In Law
J.F. Gross then entered the office of W. F. German as a student of law, graduated at Osgoode Hall and was called to the bar on October 20, 1897, when he established his practice here in the city, in which of late years his only son, Douglas D. Gross has been associated.
He early entered political life and in 1897 was elected a member of the provincial house, serving as representative from Welland for two terms under the Ross government. In his first election, he was successful over the late Wm. McCleary of Thorold, and in his second contest he defeated the late Henry Cronmiller of Port Colborne.
In 1913 Mr. Gross was appointed city solicitor and he held the office up to his death, although the active duties have been for some time carried on by his son. He was also solicitor for the township of Thorold and has served other municipalities of the county at various times.
It was often said of Mr. Gross that no barrister in the province was better equipped in the knowledge of municipal law.
He married Clara Amelia Casper who survives him, and who was the daughter of Orin Casper, an old resident of the town. The marriage was contracted some 44 years ago.
The funeral will be held from the home, 220 Division street, Tuesday afternoon at 2.30 o'clock.