PROMINENT MEN OF WELLAND COUNTY
REV. GABRIEL JOHNSTONE, D.D.
[Welland Telegraph, 1904/05]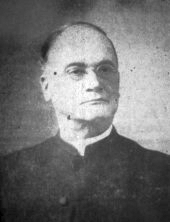 The esteemed rector of Holy Trinity Church, Welland, was born at Edenton, North Carolina, in 1843. He was educated at the University of North Carolina at Chapel Hill where he graduated in 1861. He served under Gen. Stonewall Jackson in the American Civil War and out of 150 who volunteered with him only 18 survived. He was through seventeen of the bloodiest battles of Virginia. After the war he studied law for two years and then devoted himself to the ministry. He was ordained at Oswego, New York, in 1870. Seven years later he came to Canada and studied at Trinity University taking a post graduate course and securing the degrees of M.A. and Bachelor of Divinity. His first Canadian appointment was at Jarvis. He accepted the rectorship of Holy Trinity church in 1889, today holding the love, respect and admiration of its members.  In 1891 he went to England in the service of the Society for the Propagation of the Gospel and gave lectures in the leading cities of England.  He was invited by the society to make a similar tour of Italy and was subsequently pressed to give another series of lectures in England, but both these offers he was forced to refuse owing to the demands of his work at home.  He was made a Doctor of Divinity by the University of North Carolina and was notified by the secretary of the Episcopal Convention of that state that his name had been officially proposed as co-adjutor bishop.  Despite his long absence he came within one vote of being elected to the position. Dr. Johnstone is chaplain of the 44th Regiment and holds a deserved popularity with the officers and men. During the formation of the Canadian contingents for the South African campaign he volunteered three times to enlist in any capacity in which  he could serve the flag and relative to this he has a number of  interesting letters from Colonel Otter, Sir Frederick Bordon and Lord Lansdowne.
Photo by Willson