DEATH CLAIMS J. FRANK BEST
Was Seriously Ill for 3 Weeks; Funeral Monday
[The Welland-Port Colborne Evening Tribune, 16 October 1942]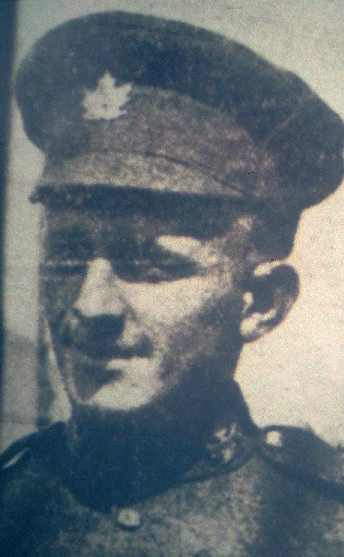 The community today mourns the death of John Franklin Best, who passed away at 11 o'clock last night at the Welland County General hospital following an illness of three weeks. Mr. Best had been ill for many years following his return from the battlefield in the First Great War, but three weeks ago he became seriously ill, and although he rallied at times, he suffered a relapse yesterday from which he never recovered. The funeral will be held on Monday at 2 p.m. from the Sutherland-Thorpe funeral home, 152 Hellems avenue, with interment in the family plot at Woodlawn cemetery. Rev. A.H. Davis, rector of Holy Trinity church of which deceased had long been a member, will officiate.
Deceased was the son of the late William Jones Best and Henrietta Lock Best, was born in Welland and attended both its public and Welland high school. He was at the age of 11 highest in his entrance class at Central school, and won a scholarship as highest boy in entrance classes in the province. He was in later life a chartered accountant, and very recently officiated locally as an expert on income tax computations. He had varied interests. He was a veteran of the First Great War, was in his earlier days vitally interested in hockey, and in later life was prominently identified with the Welland Liberal-Conservative Association.
Fine War Record
Deceased enlisted in June 1915, with C. Company, the 76th Battalion. C. Company was recruited from the old 44th Lincoln and Welland Regiment. Among those with him were his brother Harry Best, who was fatally wounded in May 1917, and Fred J. Kilgour, later warden of Welland county. In Britain, deceased was transferred along with his brother to the 58th Overseas Battalion, and he was wounded in October 1916 in Courcelette during operations of the Battle of the Somme, suffering injuries to both forearms, to the heart and also the loss of the sight of his right eye. His brother Sergeant Harry Best was killed in action just prior to the time he had been scheduled for a course entitling him to a commission on the field.
Corporal J.F. Best returned to Canada in November 1917. He was 20 years of age at the time of his enlistment. Following his return to Welland, he joined the Great War Veterans Association, and was one of its first presidents, and later joined the Canadian Legion. The funeral to be held on Monday will be under Canadian Legion auspices.
Deceased was also very active with patriotic endeavors in the city, and had worked with effective results in the various Victory Loan and similar campaigns in the present war.
Associating himself for years with the Liberal-Conservative Association, he had acted as organizer and office campaign manager in a number of elections, and was a sub-committee chairman for years.
Deceased married Miss Mary E. Stapf, a daughter of the late Fire Chief Charles F. Stapf, on March 29, 1922.
The late W.J. Best, deceased's father, was one of the city's most highly respected and oldest residents, was a former mayor, and for many years held the chairmanship of the Welland Hydro Commission. It was three weeks ago that deceased attended a special dedication service at Holy Trinity church, and there unveiled a memorial window honoring the memory of the late William Jones Best and Henrietta Lock Best.
Deceased took a deep interest in the sports life of the community in his earlier days, and among other things he organized a girls hockey club and was its manager for some years. He also played hockey while with C. Coy, the 76th Battalion following his enlistment in 1915.
Deceased is survived by his widow, Mrs. Mary Best, 50 Griffith street, Welland, by an aunt, Miss Fannie Best, Dorothy street and by relatives in the United States. His twin sister, Frances (Fannie), Mrs. G.P. Ash, died in Toronto 20 years ago.