[Submitted by B, November 2014]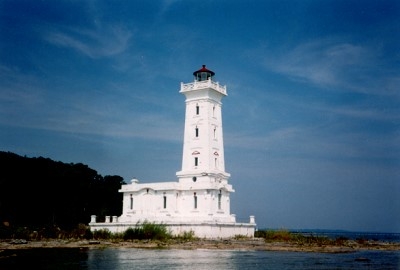 On my bucket list is a night sleeping in a lighthouse. The late Mr. Anonymous and I had spent many happy hours visiting these marvelous old structures, many now gone or in disrepair, and one of the finest we explored from a distance was Point Abino. One can not spend the night there, but tours are now arranged to see the lighthouse up close. I hope to take advantage of this opportunity next summer.
The lighthouse is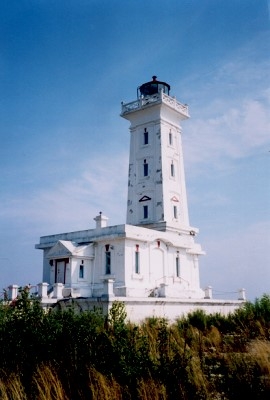 situated on a small plot of land owned by the Town of Fort Erie, but as Americans in gated communities own the surrounding landscape, it was impossible at the time to access this piece of history. We simply had to get closer, so we put the canoe in the water and paddled our way to Utopia. As long as we didn't venture onto private land and stayed on Lake Erie, we were fine. Mr. Anonymous, bless his heart, could paddle at the speed of light if need be, but without a doubt it was a calm, pleasant journey. I have always thought of my canoe as a miniature yacht, so despite a few furrowed brows from the seamen on larger watercraft, we fit right in.
Some of these aged lighthouses have been recorded as being haunted, such as Gibraltar Point on Toronto Island, the oldest existing lighthouse on the Great Lakes. I have visited it several times, and thoroughly enjoy the mysterious story surrounding the famed lighthouse keeper, John Paul Radelmüller, who was murdered in 1815. Many a wondrous tale could all light keepers report of their lonely existence and challenging labor. They are truly to be respected.