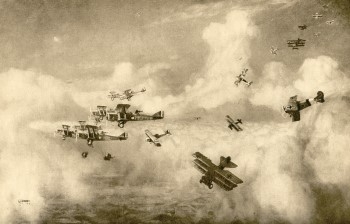 On 21 April 1918, two Australian observation planes lumbered slowly through calm spring skies above a cratered French landscape. Suddenly from nowhere, three German Fokkers descended on the hapless victims. Eight RAF Sopwith Camels, out on patrol, noticed the Australians plight and rushed to help. A few minutes later more Fokkers and a number of Albatross Scouts entered the fray. The battle was on and the once peaceful sky became a scene of frenetic activity, as airplanes jockeyed for position; climbing, diving and twisting in an effort to gain an advantage.
A young Canadian, Wilfred May, new to the Western Front, had been warned by his comrades to stay out of any fighting on his first patrol. Disobeying orders, he entered the battle, only to quickly realize how completely outclassed he was. The new pilot desperately tried to escape by flying a straight course away from the melee, a dangerous and amateurish move. He was instantly noticed by the pilot of a bright red Fokker Triplane who quickly launched into hot pursuit. Whether the young Canadian realized it or not, his life was about to end abruptly, for he was being chased by the greatest fighter Ace of the First World War, Baron Manfred Von Richthofen, who with 80 kills to his credit was considered virtually invincible. The American Ace, Eddie Rickenbacker had 26 victories, Edward Mannock the top British Ace had 61 victories and Billy Bishop, Canada's best, had 72.
Fortunately for the luckless Lieutenant May, other eyes were also watching the developing disaster. Captain Roy Brown must have known who was flying the famous red triplane, as he disengaged from combat and raced to help his friend. No novice himself, he was a skilled Ace with 9 victories, yet the selfless young pilot must have felt more than a pang of fear and a tightening of the chest. Few engaged in a dogfight with the Red Baron, or as he was called by the French "The Red Devil" and lived. Brown's hand tightened on the firing mechanism of his synchronized .303 Vickers machine guns. For a few seconds the two planes were connected by a stream of bullets. The German pilot slumped forward his plane turning on it side, before plunging vertically into the ground. Whatever it was, luck, divine providence or skill, Captain Arthur Roy Brown, born 23 December 1893, Carleton Place, Ontario, son of a flour mill owner, had shot down the greatest pilot of the First World War.
It was a time of great gallantry, as well as courage, and the allies buried the German nobleman with full military honours. While viewing Richthofen's body, Brown was heard to say "If he had been my dearest friend, I could not have felt greater sorrow." We in Canada, unlike the Americans, British, Germans or French, rarely extol the virtue of our heroes'. Perhaps we find it un-Canadian and perhaps this is why when researching Carleton Place, we felt compelled to mention Mr. Brown, definitely a Canadian unsung hero.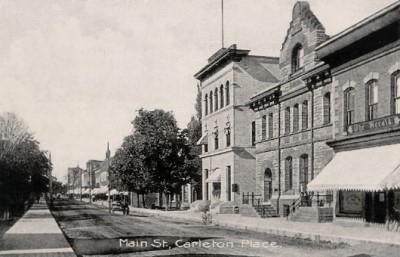 In this early private postcard of Carleton Place, the newspaper office for The Herald is located on the right. Started in 1850, James Poole was the editor and publisher. The paper is no longer in circulation.