[Welland Tribune, 25 December 1891]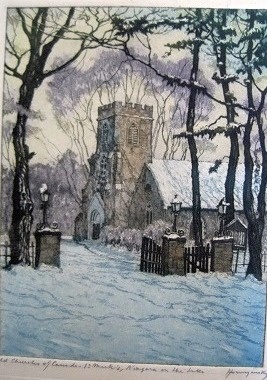 Unable to decipher name of artist.
The federation of this church was laid in 1792 in which year the Rev. Robt. Addison was appointed by the Society for the Propagation of the Gospel in foreign parts, missionary and rector of the parish of Niagara. The first entry in the register was the wedding of Henry Warren and Catharine Algor in 1792.
"May 31, 1793, died Mrs. Catharine Butler, wife of Col. Butler."
"January 25, 1794 was buried E. Kerr, wife of Robert Kerr, Esq.,"
Mrs. Kerr (Elizabeth) was a daughter of Sir William Johnson and his wife Mollie Brant, sister of Thayendanegea. Mr. Kerr was a near relative to the Duke of Roxorough. One of his sons was Col. Wm. T. Kerr, of Wellington Square now Burlington, Ont. Another entry in St. Mark's church register is the burial of C. John Butler of the Rangers, May 15, 1796.
The history of Upper Canada of 100 years ago is full of interest.
There is an excellent book, "Stones, Saints & Sinners " Walking tours of Niagara-on-the Lake's large historic cemeteries" written by Fred Habermehl and Donald L. Combe.