Mr. and Mrs. J.G. Morningstar To Mark 50th Wedding Anniversary
[The Welland-Port Colborne Evening Tribune, October 1949]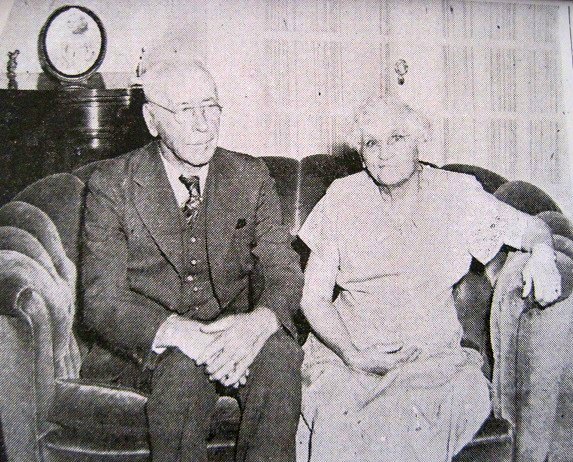 Descendants of two of the earliest families in Welland county, Mr. and Mrs. J.G..(Jesse) Morningstar of Willoughby (now residing at 99 St. James avenue, Stamford Centre will celebrate their golden wedding anniversary on Saturday, Oct. 29.
Jesse Morningstar's folk settled in Willoughby, a mile north of Snider in 1844, coming here from Alsace Lorraine. In 1841 the family moved to Netherby on the Willoughby Crowland townline, and it was here that Jesse was born, son of the late Mr. and Mrs. Philip Morningstar. Mrs. Morningstar was born Janie Sherk, daughter of the late Mr. and Mrs. David Sherk in Sherkston, which derives its name from Mrs. Morningstar's family.
Jesse Morningstar is known throughout the county as a timber-man and saw mill operator, as a municipal figure for 20 years including wardenship of Welland county and also as a member of the Welland County Old Age Pensions and Mothers' Allowances board.
Mr. and Mrs. Morningstar were married at the home of the bride's parents in Sherkston on Nov. 1, 1899. They have two sons and a daughter, Claude Morningstar, Stamford Centre, who is a member of the Canada Customs at Niagara Falls; Mrs. W. R. Hughes (Mabel) of Peterborough; and Horace Morningstar, Willoughby, who has taken over his father's sawmill interests since his retirement three years ago.
Mr. and Mrs. Morningstar will be at home to friends and relatives on Saturday, Oct. 29 from 8 p.m. into the evening.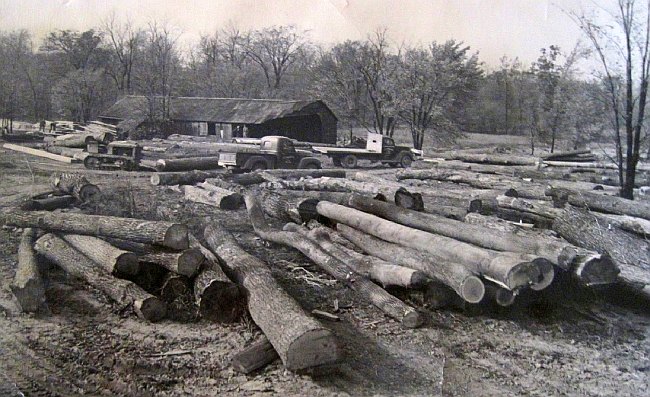 Interesting Lumber Career
Both have led eventful lives Jesse Morningstar worked on the family farm till he was 35 when he branched out into the logging game which was to be a lifetime pursuit. He bought a sawmill in Pelham township near Chantler and operated it five years before moving it to Willoughby township in 1911. His operations covered the area between the two lakes in times when competition was keen, and a $5 to $10 profit on a thousand feet of lumber was considered a good return. In addition to the Netherby mill, Mr. Morningstar also at one time operated mills north of Port Robinson, near White Pigeon, and on the Sodom road. He furnished timber for the construction of the Niagara power canal, the Welland Ship Canal, and finally for minesweepers and corvettes during the last war.
Mr. Morningstar entered municipal life in 1911 as a councillor in Willoughby, became reeve in 1915, and was elected warden of the county in 1919. He retired then till 1920 when he returned again as reeve, a position he held until 1936.
In addition to his municipal career he found time to be a director of the Fair board for 30 years, holding the office of president for three years. He was also a director of the Welland County Plowmen's Association, and for many years was a member of the Welland County Old Age Pensions and Mother's Allowances board until it was discontinued early this year. He is a member of Copestone Masonic lodge in Welland and of the Scottish Rite of Niagara Falls.
A lifelong Liberal, Mr. Morningstar was closely associated with the late W.M. German, K.C., noted Welland county M.P., and campaigned personally with him.
Mrs. Morningstar was closely associated with the Willoughby Institute and in church work as a member of the Crowland Presbyterian church.